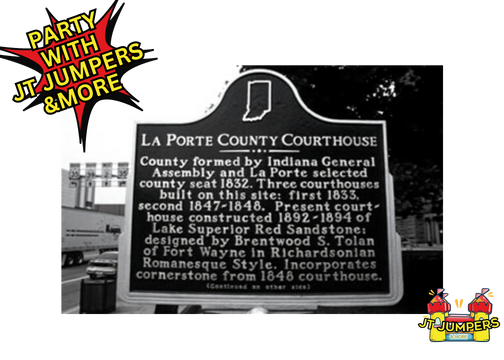 Bounce House Rentals LaPorte, Indiana
Imagine the sheer delight and excitement on your child's face as they glimpse the vibrant colors and towering structure of a bouncy castle emerging right in their own backyard. With JT Jumpers & More located in the charming town of LaPorte, Indiana, such dreams can transform into reality. Offering an enticing assortment of bouncy castle and bounce house rentals, this esteemed company is synonymous with punctuality—rest assured in knowing that our energetic, skilled team will always arrive on time to set the stage for an unforgettable party. So, why wait another moment? Allow the magic and drama of JT Jumpers & More to sweep your little ones off their feet and bounce them into a world of infinite fun and memories to last a lifetime. It doesn't stop there! We offer all of your
party rental needs
, such as:
tent rentals
,
chair rentals
,
waterslide rentals
, and more!
Call now (219-304-8322) with any questions you may have! We can help build a package if you just don't know what you want or need. We're here to help you in anyway possible.
Order-by-Date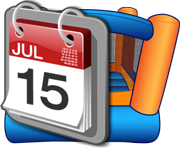 Bounce House Rentals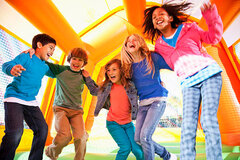 Wet/Dry Slide Rentals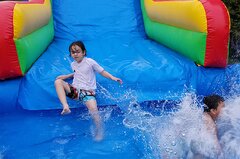 Party Add-ons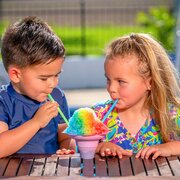 Tent, Table, & Chair Rentals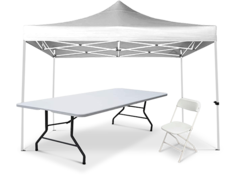 Bounce House Rental in LaPorte, Indiana
In the bustling town of LaPorte, Indiana, a remarkable phenomenon has taken the party scene by storm – JT Jumpers & More! Our extraordinary company has established itself as the premier destination for unforgettable bouncy castle rentals and exhilarating bounce house experiences. With an unwavering commitment to punctuality, JT Jumpers & More ensures that every booking is honored with an "always on time" guarantee. This steadfast dedication to punctuality and top-notch inflatables have caused a tidal wave of excitement among both young and old, as they eagerly anticipate their next gravity-defying leap into the wonderfully bouncy world of JT Jumpers & More!
Bounce House Rentals Near Me LaPorte, Indiana
Imagine the exhilaration of witnessing pure joy and boundless energy as children's laughter fills the air at your next event in LaPorte, Indiana. Welcome to JT Jumpers & More, the ultimate destination for bouncy castle rentals and bounce house rentals near me! Our impeccable reputation for always being on time and providing a plethora of captivating bounce house selections is unparalleled in the region. Prepare to be swept away by the convenience and sophistication of our easy-to-use booking system, where a world of entertainment is just a few clicks away. With JT Jumpers & More, let every celebration be a soaring adventure, leaving memories that will last a lifetime. We're a simple search away "bounce house rentals near me"
Table Rentals Laporte, Indiana
Step right up to the sensational world of JT Jumpers & More, the unparalleled realm of amusement tucked away in the heart of LaPorte, Indiana. Prepare to be captivated by our awe-inspiring array of entertainment! Oh, was it not mentioned? We are also the veritable kings of table rentals! Our magnificent team waltzes through your every whim, leaving no stone unturned in catering to your deepest desires. So, ladies and gentlemen, join us for a whirlwind of delight as we deftly transform mundane gatherings into heart-stopping moments of pure bliss, for the ultimate satisfaction of our enthralling audience!
Still have questions? Feel free to use our contact form below.